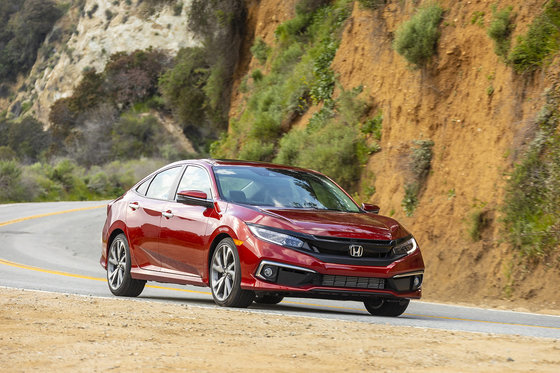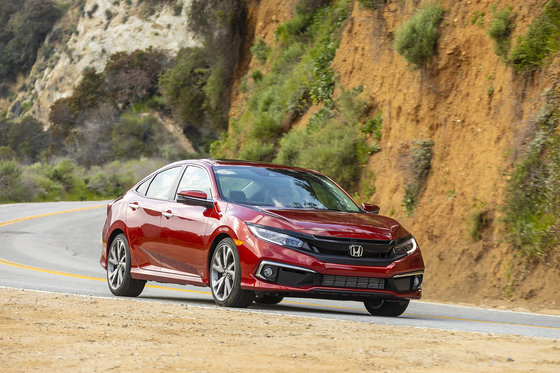 The tenth-generation Honda Civic is updated with more styling and technology upgrades for 2020. This long-running vehicle has outlasted many competitors with its versatility, dependability, and economy. With three variants and many trims, it is poised to stay on top. Here, we compare it to the 2020 Mazda3, another compact.
Honda includes three variants of the Civic that offer more options than the single design of the Mazda3. These are the Civic Sedan, Civic Hatchback, and Civic Coupe. Overall, the Mazda3 line doesn't offer the styles and functionality of the Civic family. The Civic is a longer vehicle (up to 181 mm), able to pack in more amenities. The lower height (-24 mm) keeps the center of gravity down, providing the Civic a better platform for cornering.
The 2020 Honda Civic is an efficient competitor with an available edge in power
The Civic and Mazda3 offer two engine choices. The Civic offers a 2.0L four-cylinder that produces 158 horsepower and 138 lb-ft of torque with a fuel efficiency rating of 7.9/6.1 L/100 km (city/highway). It also offers a powerful 1.5L turbocharged four-cylinder that peaks at 205 horsepower on the Si trim and 172 horsepower on the Touring. Both 1.5L trims receive respective 7.8/6.2 L/100 km and 8.9/6.4 L/100 km fuel efficiency ratings.
The Mazda3 offers a 2.0L four-cylinder that produces 155 horsepower and 150 lb-ft of torque. The fuel efficiency rating for this engine is 8.7/6.6 L/100 km, so any gains over the Civic in torque come at a great cost in fuel. The other engine is a 2.5L four-cylinder that generates 186 horsepower and 186 lb-ft of torque. FWD trims have a fuel efficiency rating of 9.2/6.6 L/100 km and 9.0/6.8 with cylinder deactivation. The Civic's most powerful engine beats the Mazda3 in fuel efficiency and horsepower.
Passenger comfort in the 2020 Honda Civic
Although both vehicles fit five people, the 2020 Honda Civic beats the Mazda 3 in a few key dimensional areas. The Civic offers 30 mm of additional front shoulder room and up to 60 mm more rear legroom. These are important metrics, especially on long trips in a compact vehicle.
There are many other features to discover with the 2020 Honda Civic. Visit us for a test drive today.