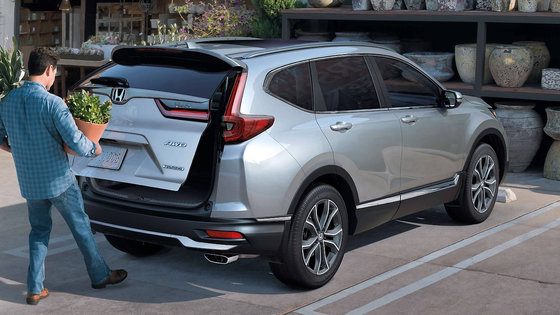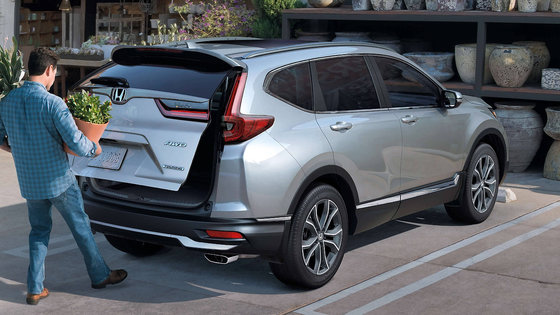 A happy mix of comfort and performance, that's what you will find in the new 2020 Honda CR-V. Always ready to explore the city or visit the wide open spaces, the 2020 CR-V offers the versatility, efficiency, performance and driving pleasure you want out of your compact sport utility vehicle. Here are three things to know about the 2020 Honda CR-V.
Unparalleled handling with the 2020 CR-V
Standard, the CR-V 2020 is equipped with 17 to 19 inch alloy wheels, depending on the model chosen. Its robust chassis, combined with available all-wheel drive, allows you to explore the city and nature with complete confidence. And with its 209mm ground clearance, it is possible to go off-road without any problems.
McPherson front suspension and multiple rear joints work with stabilizer bars to provide passengers with a smooth ride. The driver can count on excellent control thanks to the electric assistant rack steering (EPS) which adapts to movements.
The exterior features needed to enjoy the road
In addition, the CR-V is equipped with halogen headlamps, while the Touring and Black Edition versions have automatic LED lights for improved visibility. The panoramic roof, available on the Touring and Black Edition models, allows you to truly enjoy the road. The driver will also enjoy the benefits of having a 360-degree camera to see everything and anything around when parking.
A versatile space inside
With a storage space of more than 2,100 liters behind the front seats and its 60/40 folding seat, you will never have to worry about running out of space. In addition to its impressive cargo capacity, the CR-V also offers more space for passengers than just about any compact SUV.
The CR-V goes further in terms of ergonomics, with its programmable height electric tailgate, in addition to optional hands-free access. Access to the passenger compartment is significantly improved with the 85-degree opening of the rear doors.
No matter where the road will take you, both in your usual travels and your great adventures, you can count on the sound driving of Honda and the reliability of the CR-V. You can buy your Honda vehicle online with us. Our representatives are waiting for your call and can answer all your questions.