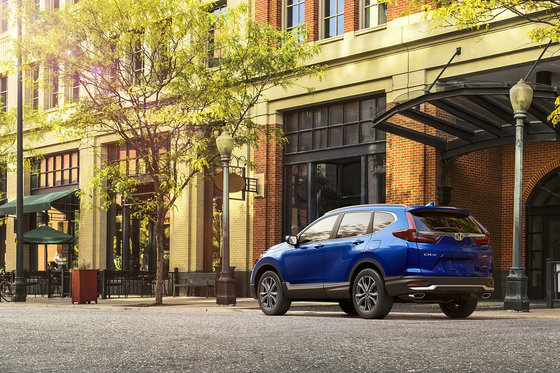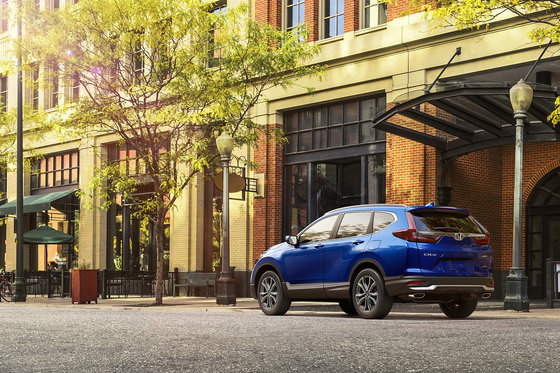 There's a good reason the Honda CR-V is one of the brand's top-selling models. Apart from being practical and great to drive, the CR-V offers a stylish look inside and out, as well as great fuel economy for a vehicle in its segment. While there's plenty to like about the new 2020 Honda CR-V, we'll focus on the top three things you need to know about this contemporary crossover.
New Trims available, like the Black Edition
The 2020 Honda CR-V is offered in a unique and special trim level called the Black Edition. This particular CR-V model is similarly equipped to the Touring edition, with a few added elements to set it apart from the rest of the model lineup For starters, the 2020 Honda CR-V Black Edition features an all-black exterior (optional white) and all-black interior with black woodgrain trim finish and perforated leather seats all around. It also sports 19" alloy Black Edition wheels and a panoramic moonroof.
New Charging Capabilities
Not for the car – which features a 1.5L turbocharged 4-cylinder engine that produces 190 horsepower that can be sent to either the front or all four wheels, depending on the model chosen. No, the new charging capabilities are found on the Touring and Black edition only and is actually an all-new Qi-compatible wireless cell phone charging pad, which means that you can charge multiple devices with USB ports and the Qi pad. The 2020 Honda CR-V is Apply CarPlay and Android Auto compatible, as well.
Improved Exterior Looks
Honda decided to elevate the look of the new 2020 Honda CR-V by giving it a much more modern front end and adding a bit of youthful flare that's sure to turn heads on the road. The entire look is much more muscular and poised now, and in the back the taillights are dark-tinted and on the CR-V Sport, Touring and Black Editions, the tailpipes are chrome. There are also two new exterior colours to choose from: Radiant Red and Sonic Gray (but not if you opt for the Black Edition).
There's so much more to know about the 2020 Honda CR-V, so you should head down to your local Ramsays Honda dealer to speak to one of our experts, and make sure you book a test drive, too.